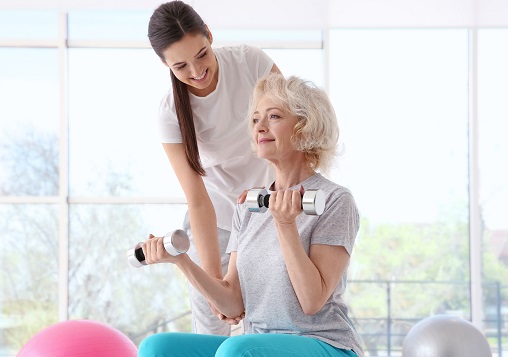 Seniors who choose to age in place at home often deal with many issues that affect their overall mobility, comfort, and independence. These issues include chronic illnesses and age-related issues. Physical Therapy can address many of these issues keeping your elderly loved ones safe, independent, healthy, and comfortable at home. Benefits of physical therapy for seniors include:
Improving overall functionality
Physical Therapy services help address common issues affecting bone density, coordination, balance, and range of motion, keeping your elderly loved ones mobile and strong at home. Addressing these issues will also help seniors perform their daily living activities optimally. We also offer home care in Philadelphia, Pennsylvania, to assist them with their daily living activities.
It can help address chronic pain
Weak muscles and bones can increase the risk of joint, muscle, and back pain. Physical Therapy will assist your loved ones with exercise to help them strengthen their muscles and bones, addressing chronic pain issues.
It decreases the risk of injuries and falls
Aging bodies can be more susceptible to serious injury from falls. Physical Therapy helps keep your elderly loved ones strong and mobile to help prevent falls at home. We also provide Companionship services to supervise the safety of your loved ones at home, assist with mobility, and improve fall prevention.
Restorer Home Health Services LLC provides reliable Physical Therapy for seniors aging at home. For more information about our home health services in Pennsylvania, you can call us at 267-343-8505. Services you could expect from us include Speech Therapy, Occupational Therapy, Medication Assistance, and so much more.